We

Wuz

Robbed! (The Hand Gun Nation was robbed)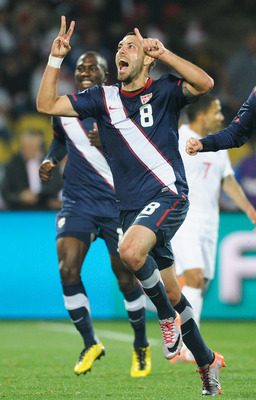 JOHANNESBURG (AP)—Maurice
Edu
kicked the ball into the net just before the 86th minute. American players jumped around wildly, thinking they had capped a historic comeback, turning a two-goal, first-half deficit into a 3-2 victory over Slovenia.
"Then I heard the whistle,"
Edu
said
Referee
Koman
Coulibaly
of Mali had called it off.
Over and over, American players asked, "Why?"
In English. Then in French. (Yes ironically in French)
Fans & players have a right to be livid after a referee cost the US team a place in World Cup history. An excerpt when I
reland
was denied a place on the Center stage because of a disputed hand ball.
FIFA

, the governing body of international football (soccer to Americans), rejected a request by the Football Association of Ireland to replay the controversial match on Wednesday that gifted a World Cup spot to France according to the New York Times. In their statement,

FIFA

properly said that "As clearly mentioned in the Laws of the Game, during matches, decisions are taken by the referee and these decisions are final."
It Is What It Is. During a ca
reer
these things even out. People in the united States seem to be
cr
ying
foul and I for one am not one of them. Its their own damn fault for starting with suck (sic) lethargy and one again bringing out the latent Irishmen that every American seems to need and want.
The again it is the American way where we have proven over and over again. Life is not fair.
We prove it in America everyday.
If you are poor. We seem to think Life isn't fair. GET OVER IT.
If you are a minority. We seem to think Life isn't fair. GET OVER IT.
In international football (soccer to Americans) referees are human and probably somewhat I little bit biased against the big bully oil guzzling Americans. Really can you blame them. Life isn't fair. GET OVER IT.
===========
Fo
r the record, I see the US edging out Algeria in the final game of match play thus avoiding the Germans in the first round. See what goes around comes around.